Do you want to find a different plan in Murcia? Clue Hunter brings you something original, entertaining and addictive for your free time, such as an escape room. In our escape games you will have a certain time to solve a series of puzzles and mysteries against the clock, where you will have to test your logic and your adrenaline if you want to complete them successfully.
Our escape games are unique and original , and we have created them so that you can fully enjoy a pleasant experience. We currently have 3 games with totally different stories and themes, with different settings and difficulties. If you want to have fun with your family, friends or challenge your co-workers, this is your place!
Book your escape room in Murcia
[erdirector type=booking game=109,127,128 calendar=0 textstyle=Dark calendarstyle=Dark lang=en token=o6NMI8XniTD4EcaU][/erdirector]
Reviews Clue Hunter Murcia
One of the best Escape Rooms in Murcia! The tests are very interesting and everything is very well explained. The excellent area. Highly recommended!!


I went with my children and my husband and we had a super fun afternoon!! The setting is very good and the evidence is more original than in other escape rooms in Murcia.

Great treatment by the staff!! An hour squeezed to the maximum and some very hard tests. It is lucky to have this room in Murcia. Recommendable.


It is wonderful to be able to spend an afternoon in Murcia doing something fun that is not the usual (cinema, shopping...). I'm looking forward to repeat!


I'm quite addicted to this kind of games... Clue Hunter Murcia is great! The best in the area! And the guys are very nice!


Very good, guaranteed immersion and quality in its rooms. Game master very dedicated. 100% recommended. Looking forward to seeing your new games.

Fantastic experience! Everything is set from the moment they open the door. It has a level of attention to detail that is hard to match. We will return for sure.

It has been a great experience. All well sanitized and prepared to enjoy the game, either with family or friends. Totally recommended.

It was the first time we tried an escape room and we loved the experience. It was all very fun and original. Definitely an activity to repeat!

We have spent a VERY VERY VERY fun and different afternoon. We have worked as a team, we have laughed... One hundred x one hundred recommendable. We will repeat!
We went to celebrate my partner's birthday and we had a great time. It is something very different from what we had played so far.

I loved the online game of Looking for Firulais. By the way: "It serves as a door to cold and fire, it is final in Russian names and a mediator on offer."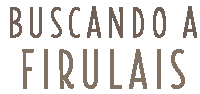 Are you more than 6 people?
We have special activities in our facilities for large groups, if you prefer we can also move to your own company or venue.
Encourage teamwork through our games