Looking for some fun plan in A Coruña? Clue Hunter is your solution with the most fun leisure activity in Galicia: the best escape rooms in the city.
Immerse yourself in an exciting search for solve puzzles and brain teasers against the clock in a movie setting. Our games take care of every last detail so that the experience is totally immersive and amazing.
Are you more than 6 people? We have the perfect activity. Our escape halls will allow you to participate in teams in a single space, where competitiveness prevails over the setting.
Come with your friends, family, or co-workers in a team building . A Coruña is full of wonderful places and offers many activities, but this is the perfect plan if you are looking for something different. Enjoy this top activity in the city and experience the art of escaping in your own skin.
Book your escape room in A Coruña
[erdirector type=booking game=133,135,110,136,134,137 calendar=0 textstyle=Dark calendarstyle=Dark lang=en token=dfblop7PTh4xQqde][/erdirector]
Reviews Clue Hunter A Coruña
With all this COVID, we had our doubts, but we have felt 100% safe. They have a very defined protocol and everything was perfect. We will repeat for sure!


I have experience in 20 rooms and I can say that it is undoubtedly one of the best I know. The rooms are very good and super well set. I will repeat for sure.

I loved the WEN case but "Trapped in the basement" is simply BRUTAL!!!
Congratulations!!! The setting and the story are amazing!! I would've been great!!!

We've done Indiana and the Cursed Idol and Murder in Keylock City. Both spectacular for groups of more than 8 people and for families. Top rooms!


We have been in Trapped in the Basement and we have not stopped. Highly recommended, a great setting and a lovely team. Looking forward to trying the rest! 🙂

Fantastic setting. Non-linear gameplay and clever challenges keep you moving all the time. Adrenaline rising to the end!

It is my favorite room in A Coruña, not only because of the treatment and good work of the gamemasters, but also because of the setting of the rooms and their enigmas.

It seems to me a mandatory visit for lovers of escapes and adventures. Guaranteed fun and the game masters make the experience perfect. go already!

Fabulous staging. There have been scares, laughter, nerves, teamwork, adrenaline.
We have enjoyed it like dwarves throughout the experience.

We went for the second time after being delighted the first time (only three weeks before). We will repeat for sure, we want to complete them all!

I loved the online escape game of Looking for Firulais. By the way: ¨I am a very straight stick and on my head I have a dot¨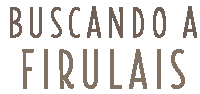 Are you more than 6 people?
We have special activities in our facilities for large groups, if you prefer we can also move to your own company or venue.
Encourage teamwork through our games